After suffering for years with pain, I then spent a year creating an essential oil cream so strong that it helped alleviate my symptoms, as well as making something without harsh chemicals that I knew weren't good for my body. Over the years I had given so many jars away to friends, coworkers, and anyone who I saw in pain, or struggling to walk.
Hidradenitis Suppurativa
Then one day I met a woman who told me about her daughter, someone who suffers from a horrible skin disease called Hidradenitis Suppurativa. The more I read, the more I realized that I needed to help her. As I learned more about HS, and other skin conditions that have no cure, or relief, I knew this is what I had to do for the rest of my life.
Here are just some of the 1,000 reviews and testimonials:
Julie on Oct 29, 2022
5 out of 5 stars
This cream is absolutely amazing! I've suffered with HS for many years and so thankful I found this! It's soothing and calming for my flares.
5 out of 5 stars
Thank god for Michael and this ointment. This is my second time ordering this and I am a lifelong customer!!! Shipping was super fast! If you deal with HS don't hesitate to purchase this. It's a life saver! Camille B
This stuff is amazing. I have been getting pretty bad flare ups recently and this stuff works. As soon as I feel a bump I put this on and within a day the pain is gone and I see the bump getting smaller. I have tried so many other things and this definitely works.Monique R
5 out of 5 stars
I didn't know what to expect from this product. I've tried everything and anything…. and nothing worked ! This ointment is amazing! This is my second day using it and my underarms are pain free, bump free and "ooze" free. You are a blessing. This product is truly amazing!Gloria
amber on Sep 12, 2022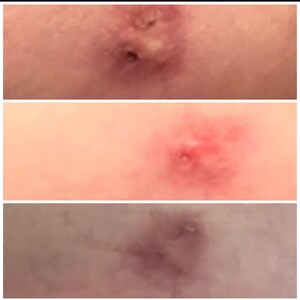 I have waited sometime to write this review and I can't express what a gift this product is. If you or someone you care for has HS and you are considering purchasing it I highly encourage you to do it.
Kristina on Oct 22, 2022
This is amazing!!! I put it on my thumb and the pain went away instantly (pretty sure it is arthritis pain)! I also put it on my feet before a 12 hour shift and I don't have any pain to my feet the whole 12 hour shift. I will definitely be buying more!
Christians on Oct 6, 2022
Best in treating psoriasis even though it doesn't make it go away, I have gotten good night sleep from using it. This ointment is amazing as the name stated. I am please with this product and will continue to buy. Saved me from sleepless nights.
Theresa on Oct 5, 2022
I have been purchasing this product for my daughter for over a year. This product has met all of her expectations. I will continue to order this product as long as the ingredients stay the same because it works.
Lisantica on Sep 16, 2022
This is probably the 4th time I've purchased this product. It helps my HS by keeping the swelling down. I will continue to buy it.
Adrian Perez on Sep 15, 2022
My whole left side went clear after about 2 weeks. This stuff is great!
Here's a link to our support group:
https://www.facebook.com/groups/349761653390700